Back in 2014, the Tigers were laser-focused on the World Series. The team didn't want good players. Detroit wanted elite-level talent. At the deadline, the team swung a trade for 2012 Cy Young Winner David Price. The team sent out Drew Smyly, Austin Jackson, and a prospect in a three-team deal. Price bolstered a lineup of 3 other former-or-future Cy Young winners. But, the Verlander-Scherzer-Price-Porcello monster would be ineffective. The Tigers were swept in the ALDS in 2014. Price would re-sign with the Tigers on a one-year contract.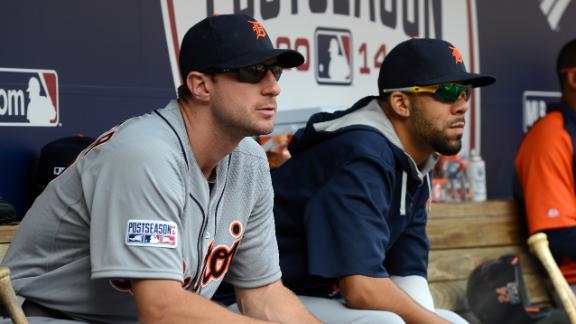 Then came the infamous 2015 campaign in Detroit. The Tigers were like Buddy at the end of Air Bud. They didn't know where to commit. Should they fully rebuild or fully contend? GM Dave Dombrowski decided on somewhere awkwardly in the middle. So, Price was shipped to Toronto just 364 days after he had arrived. The red-hot Blue Jays traded prospects Matt Boyd, Daniel Norris, and Jairo Labourt for the perennial All-Star.
The Prospects
Matt Boyd
Matt Boyd has always been a good-but-not-great option during his time in Detroit. Boyd has a penchant for strikeouts – and giving up home runs. He has posted a career 4.98 ERA with the Tigers. Boyd got the nod as an Opening Day Starter in 2020. But, he put up league-worsts in ERA, HR, and losses last year. Boyd is currently on a one-year deal with the team.
Daniel Norris
The most surprising part about getting Norris was his power. However, on the pitching end, Norris's career 4.48 ERA makes him an average acquisition. He has struggled with injuries throughout his career. In 2020, Norris posted a 3.25 ERA with 28 Ks in about 28 innings. He re-signed with the team on a one-year deal just like Boyd.
Jairo Labourt
Disappointingly, Labourt would bounce around the Tigers minor league system until 2018. He put up a 4.5 ERA with 4 Ks in just 6 innings pitched in the majors. He currently plays in an independent league.
Who'd We Give Up for David Price in 2014?
Austin Jackson
First, "A-Jax" – a fan favorite in Detroit. Fans lauded him with a standing ovation after being traded for Price in the middle of a game. He spent the rest of 2014 and half of 2015 with the Mariners. Jackson would become a journeyman, playing for 5 teams in just three seasons. Jackson made his name with incredible defense. However, he was a very reliable hitter and base-stealer when needed. Jackson hit .273 in his career with 53 triples, 65 homers, and 114 stolen bases. Jackson is currently a free agent.
Drew Smyly
After starting his career in Detroit, Smyly would bounce around six teams. He had Tommy John in 2017 and dealt with a bevy of injuries. He played with the Giants in 2020. Then, Smyly signed a one-year, $11 million contract with the Atlanta Braves. "Smiles" has a 4.13 career ERA with a record of 35-35.
Willy Adames
Remember that prospect that was traded for David Price? He was none other than Rays star Willy Adames. He was the Rays' top prospect in 2015, 2016, and 2017. Adames made his Major League debut in 2018. He was a major part of Tampa's World Series team in 2020. Adames hits .282 BA with 109 RBI, 38 homers, and 47 doubles in his career. Not to mention, he is only 25 years old. Adames could have been a great part of the Tigers rebuild. But, Adames is in a much better position with the contenders.
What about David?
Finally, the man of the hour: David Price. He would play in the ALCS with the Blue Jays in 2014. Price finished 2nd in Cy Young voting and 9th in MVP voting that year. After his stint with Toronto, he signed a franchise-record contract with the Boston Red Sox. He won a World Series alongside former Tigers J.D. Martinez and Rick Porcello (see the Yoenis Cespedes trade) in 2018.
Price was apart of the Mookie Betts trade in 2020. But, opted out of the season due to COVID concerns. He is expected to make his Dodgers debut this season and add to an already stacked championship team.
Share This Story, Choose Your Platform!