New York Knicks' Julius Randle has won the Most Improved Player award instead of Jerami Grant. Randle set career-highs in points, rebounds and assists while leading the Knicks to the playoffs as a fourth seed. Meanwhile Jerami Grant has an incredible breakout season of his own, nearly doubling his scoring average. But the increase in productivity didn't help the Detroit Pistons as they finished the season with twenty total wins.
Jerami Grant needs more respect
When deciding the most improved player, record of the team shouldn't come into play because it's an individual award. Julius Randle went from 19.5 points per game in 2019-2020 to 24.1 points in 2020-2021. When comparing Jerami Grant to previous years he made more of a jump in his overall game this past season than Julius Randle. Without knowing which player is which, who do you think made the more significant jump?
Without any bias towards Detroit the most improved player to most people should be the top picture. Basing on the statistics provided the Most Improved Player award should go to the player who improved his overall game from previous years. Jerami Grant didn't score over ten points per game until his fourth season in the NBA. Meanwhile Julius Randle just averaged 21.4 points per game with the New Orleans Pelicans two years prior, so it's not new for Randle.
Check out the voting scores to see how many voters favorited Randle, Michael Porter Jr was close to being the second place vote getter.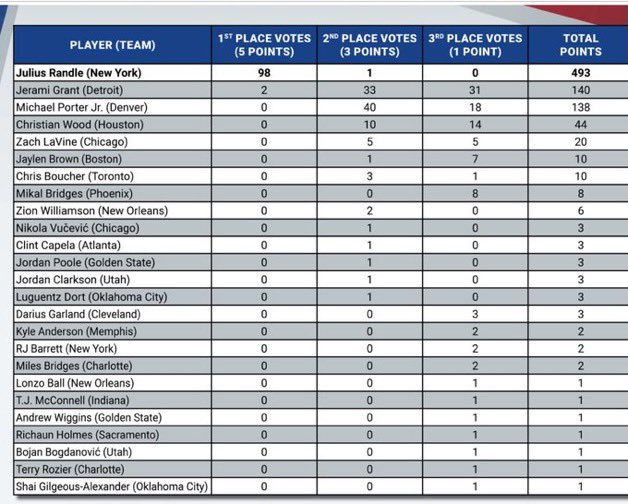 New York City wins in popularity
It's no secret New York City is a bigger basketball market than Detroit, so the publicity for things get overblown. Julius Randle along with new head coach Tom Thibodeau lead the Knicks to the playoffs since 2013, and that was a good selling point for Randle. Jerami Grant ended up coming in second place for the award, but he should have been taken more seriously. It's clear Randle wins the popularity contest but when deciding basketball awards it should be strictly based off the players game. Jerami Grant is doing things we've never seen him do before.
At the end of the day congratulations to Julius Randle for winning the award, regardless if the media didn't take Jerami Grant as serious as they should. Grant will learn so much from this and hopefully have continued success in the future with the Detroit Pistons.
Share This Story, Choose Your Platform!